April 18, 2017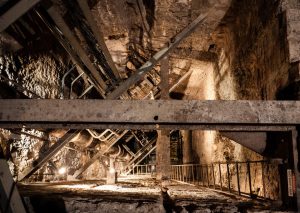 If you love a bit of local history and have a big sense of adventure, then be sure to pop over to Fremantle Prison to experience one of their Tunnel Tours first-hand.
Equipped with a hard hat, overalls, and gumboots, you'll descend approximately 20-metres below the prison to explore the labyrinth of underground tunnels that were dug by convicts more than 120 years ago.
What to Expect on the Tunnels Tour in Fremantle
Turn your headlamp on as you climb down a ladder into a series of damp yet warm tunnels where you'll wade through water that goes as high as knee deep, and walk through a set of underground tunnels as you learn their fascinating history.
As you approach a dead end, your guide will instruct everyone to fall silent and turn off their headlamps. Don't be alarmed by this sudden change in pace, as you'll quickly realise you can hear Fremantle's traffic rumbling above you, as you've left the prison and headed down tunnels that lay hidden beneath Fremantle's 19th century style streets.
There will come a point where you reach water that's too deep to walk in, so you'll be paired off into small boats to paddle through some pretty rough terrain. While it may feel like you've ventured further and further away from the world above, your tour guide will lead you back to the safety of the prison after an exhilarating, and enlightening adventure through Fremantle's convict history.
Important Information
Before you head off on your underground adventure, make sure you wear comfortable clothes and that any children accompanying you are over the age of 12.
Due to the nature of the tour, there are also some height and weight restrictions, and it's recommended participants are physically fit and able. If you have a fear of heights or are claustrophobic, this tour probably isn't for you.
Physical Weight Requirements: Minimum of 40kgs, maximum 140kgs.
Age Requirements: Minimum age is 12 years. An adult must accompany children aged 12-15, and those aged 16-17 will need a signed permission slip from a parent or guardian.
Prices: $60 per adult, $50 per concession, $40 per child
Open Times: Tours will operate daily at 9.00am, 9.45am, 10.40am, 1.40pm, 2.40pm and 3.25pm – subject to availability
Bookings are essential.
For more information on Fremantle Prison's Tunnels Tour, contact the prison directly on (08) 9336 9200, or visit www.fremantleprison.com.au.