July 29, 2016
Fremantle itself has so much to do, but you only have to venture a few miles south to Rockingham to experience the thrill of one of my favourite attractions, swimming with the dolphins in the Shoalwater Marine Park. Today's Callan's Choice is Rockingham Wild Encounters, who provides our visitors with this unique opportunity.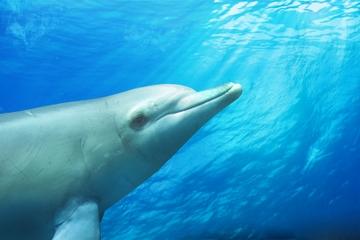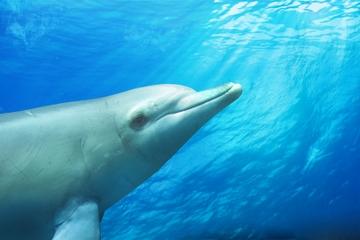 The Shoalwater Islands Marine Park is a carefully protected area just south of Perth, and its home to penguins, seals, sea-lions and about 180 dolphins. Ferry tours are a great way to see the penguins and the seals, but if you do nothing else while you're here, you must see – and swim with – the dolphins. Rockingham Wild Encounters will give you a day to remember.
Expert Guidance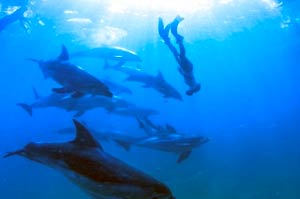 You can't just jump into the sea with a bunch of wild dolphins. They have to be comfortable with your presence, or they'll just stay away. The guys at Rockingham Wild Encounters have been making friends with the dolphins of the Marine Park for over a quarter of a century, and they associate him and his boat with opportunities for playing with the visitors they bring.
Owner Terry Howson first swam with wild dolphins in 1989, and conceived the idea of sharing this magical experience with visitors to the area. Originally a one-on-one guided tour, Rockingham Dolphins, as it was then known, grew to the point where today it hosts 20,000 visitors a year. Visitors to view the nearby Penguin Island used the same infrastructure, including the ferry now used to conduct tours, so the two attractions were combined to form Rockingham Wild Encounters.
The trip out to meet the dolphins gives Terry time to give the group a crash course in dolphinology – useful, because I had no idea they used stingrays to catch their lunch!
The familiarity of the local dolphins with the arrival of groups of humans means that they are uninhibited, and go on with the business of being dolphins in as natural a way as you are ever likely to see. That's not to say that they ignore you – they are too curious a species for that, and interaction with them is a big part of the experience. In fact I'm pretty sure one of them was showing off to me! And if you're lucky you may see a nursing mother.
Tour Options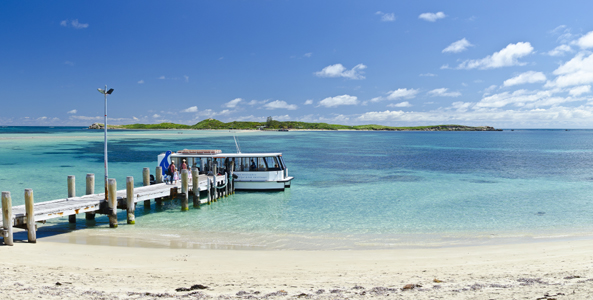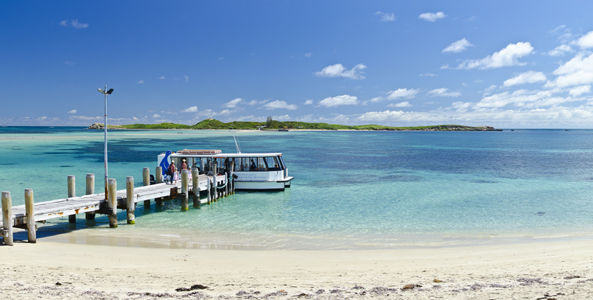 The Swim with Wild Dolphins cruise is for up to 44, and is great value, but the very best way to for a family immerse itself in the dolphin experience is with the Private/Exclusive Swim with Wild Dolphins option. Groups of up to 6 are hosted by Terry personally, and he teaches the use of underwater scooters to swim with the dolphins, and then leads the group into close, personal encounters with these amazing creatures that will give you the memories of a lifetime.
Interested? You can book a tour here.